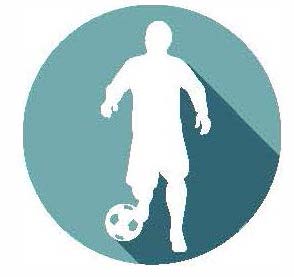 I. Players and Team Composition
1A. All players must register online, including filling out a league waiver and paying annual membership dues.

1B. There must a maximum of 6 players on the field. Coed leagues must field 4 men (max) and 2 women (minimum of 1).
1C. Premier Coed Sports rules allow a team to play with 4 people (minimum 1 female). There is no maximum limit to the amount of females which must be on the field.

2A. Rosters are kept online on team pages.
2B. All roster changes must be approved by Premier Coed Sports before the 4th week of the season.
2C. No roster additions will be accepted after 4th week of the season and player changes will
not be accepted due to injury.
2D. A team will forfeit any game in which it is determined that a player has participated who is not
listed on the final team roster or is not of legal age.
2E. Any roster addition must also have current membership or register and pay for membership by 4th week deadline.
2F. Players must carry photo ID in case of spot roster checks.


III.Equipment & Uniforms
3A. All game balls are to be provided by the HOME TEAM.
3B. Shin guards are STRONGLY RECOMMENDED. Playing without shin guards makes you more susceptible to injury and is done at your own risk.
3C. Molded cleats or tennis shoes are the only allowable footwear. NO METAL CLEATS ARE ALLOWED. Shoes must be worn at all times.
3D. The goalkeeper must wear a jersey contrasting that of his or her team and the opposing team.
3E. Jerseys are ordered the first week of the season and distributed week 2/3 once a team's fees are all paid. Any players signing up AFTER the week 1 order will have to wait until the mid-season (week 3/4) order. During the first couple weeks of play, teams must wear their color until the order comes in.

3F. Once jerseys are issued, they are REQUIRED to play.
3G. If a team wants to order their own jerseys, they must be one consistent style, and either the entire team wears them or the entire team wears jerseys issued by Premier Co-ed Sports...not a mix of each.


4A. Adult teams will play two 20 minute halves with a two minute half time.

4B. There will be a coin toss at the start of every game. The team that wins the coin toss at the start will have first choice to kickoff or choose a goal to defend.
4C. The referee will start each game time as scheduled. If the players are not ready, the clock will still start as scheduled. Play will begin as soon as the minimum of 4 players (min. 1 female) are on the field.
4D. Time will run continuously, except for serious injuries.
4E. Teams will be given 10 minutes after the scheduled start time of the match to present the minimum of 4 players required for a match.
4F. If a team fails to present the minimum of 4 players (min. 1 female) after the 10 minutes have passed, they will be issued a forfeit.
4G. There will be no overtime periods, or shootouts in the regular season, only during playoffs.
If the score is tied at the end of regulation, each team will remove one field player (4v4 + GK minimum of 2 females is still in effect...teams playing short-handed in regulation must remove a player for overtime), and there will be a sudden death overtime period of three minutes.
If still tied, we move to sudden death PKs.
A female will take the first PK, followed by a male, female, male, etc.
5A. Kickoffs: Consists of the ball being placed at midfield. The ball must complete 1 forward rotation before being touched by another player.

5B. All kicks are direct. There are no Indirect kicks in outdoor leagues.
5C. After goals the ball will be restarted at midfield.
5D. NO SLIDING or SLIDE TACKLING.
5E. Goals will be approximately 6ft high x 12ft wide

MORE INFO ON RULES AND POLICIES:
Terms & Conditions
Payment & Refund Policies
Inclement Weather Policy
Sportsmanship Policy
Holiday Schedule
Jersey Policy
League Levels