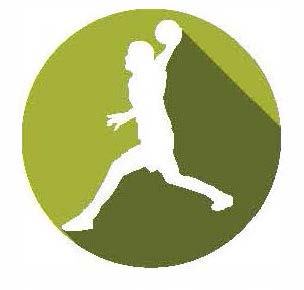 Premier Co-Ed Sports Dodgeball Rules
FORFEIT TIME IS THE SCHEDULED STARTING TIME - Individual games are forfeited for every 5 minutes a team is late fielding the minimum number of players (4, with at least 1 female) and the entire match is forfeited if the minimum is not met by the end of the 10-minute grace period.
At the beginning of the game, a coin is tossed to determine ends. The team winning the toss may choose the end they will defend for the first game. Ends will alternate each game.
Object of The Game: To eliminate all six opponents by forcing them �¢??out�¢?? (see rule 6).
I. Players and Substitutions
1A. All players must fill out a league waiver and have a valid Player's Card to be eligible to play.
1B. Roster limit is 12. A team consists of six players, but may start with four (4) players. A team must have at least two women and two men on the roster. No more than 4 males on the floor at a time. So if playing with only 1 female, the max total is 5 on the court.
1C. Team requirement - There must be at least two women and two men on the court at all times unless resulting from players being put �¢??out�¢??.
1D. In order to receive a forfeit win, a team must have its four players (minimum 1 female) on the floor.
1E. All players must wear non marking rubber-soled athletic shoes.
1F. Jewelry, chains, rings or earrings may not be worn during dodgeball games. The penalty being declared �¢??out�¢??.
II. Roster Changes
2A. Roster changes will be accepted via email, mail and in person at the pre-event Captains�¢?? Party.
2B. All roster changes must be approved by Premier Coed Sports before the 4th week of the season.
2C. No player changes will be accepted after 4th week of the season and player changes will
not be accepted due to injury.
2D. A team will forfeit any game in which it is determined that a player has participated who is not listed on the final team roster or is not of legal age.
2E. Official roster change must be submitted by the Team Captain and include:
Team name, new player name and name of person being replaced.
III. Court Markings
3A. The officials will inform the team captain about the official lines on a particular court.
IV. Length of Matches, Games, and Timing
4A. Seven games of five minutes duration each constitute a match. Clockstops for team time-outs and official�¢??s time-outs only (e.g. for injuries, violations, or rules interpretation).
4B.. A �¢??game�¢?? is won by:
a. eliminating all six opposing players before time expires or
b. having more players remaining on the court than the opponents when time expires. If both teams have an equal amount of players on the court then the game will continue until one team eliminates a player(s) on the other team. The team with more players on the court at that time will be deemed the winner.
4C. Each team gets one time out of 30 seconds duration per game.
4D. Intermissions between games will be a maximum of 1-minute.
4E. Championship games are the same length as regular season games.
4F. The number of games and the duration of games, intermissions, and time-outs may
be changed at the discretion of the officials.
V. Start of play. The �¢??Rush�¢??
5A. Six balls will be lined up along the mid-court line, three on each side of the center
hash mark. Players line up behind their own end line
5B. On the officials signal players �¢??rush�¢?? the center line and retrieve the balls to either side of the center hash mark. Players must then retire to their side of their own back line.
5C. All Players must reach their back line before any member of that team may throw a ball.
5C. If a player commits a false start then the �¢??rush�¢?? will be redone with that player not being allowed to �¢??rush�¢??
VI. Players are declared �¢??out�¢?? for:
6A. Being hit below the shoulders by a �¢??live�¢?? ball. A teammate catching a �¢??live�¢?? ball after hitting another teammate DOES NOT result in the thrower being out. Once a player has been hit by a ball they are the ONLY player that can catch the ball to save themselves from being out. If they are able to catch it then rule 7A. still applies.
6B. Having their thrown �¢??live�¢?? ball �¢??caught�¢?? by an opposing player before it touches the ground. A �¢??trapped�¢?? ball is not considered a �¢??catch�¢??.
6C. Throwing at players above shoulder height, no matter if they are hit or not. Squatting, kneeling, or deliberately causing your head to be hit by a thrown ball will not result in the throwing player being �¢??out�¢?? (player hit is out).
6D. Retrieving a ball by not leaving and re-entering the court over the end line or retrieving a ball by stepping into the �¢??dead zone�¢??. (dead zone = out of bounds over the side lines)
6E. Stepping over a boundary line or into the �¢??dead zone�¢?? while attempting to avoid being put �¢??out�¢??.

6F. Using the "Pinch" or "Gorilla" Grip. (*we are using smaller balls that should eliminate the need for this type of grip to increase velocity, while also being safer for the "targets")

***When �¢??out�¢?? a player must retire to their respective �¢??bench/player return�¢?? area.***
VII. �¢??Returning�¢?? players:
7A. The �¢??catching�¢?? of a �¢??live�¢?? ball results in 1) the person having thrown the ball being �¢??out�¢?? and 2) a player on the �¢??catching�¢?? team returning to play if and only if one or more players on that team had been retired. Players return in the order they were put �¢??out�¢??.
7B. The first person to touch a �¢??live�¢?? ball is the only person who can put a player out by catching it.
VIII. Miscellaneous
8A. Players in the queue may retrieve balls to hand to players but they must be past at the end line.
8B. A team having possession of all six balls must throw at least half of them within 10 seconds (to be timed by the official).
8C. A player may use the ball they are holding to block a thrown ball. The thrown ball is then considered dead and cannot put the thrower out by being caught or another player out if the deflection hits them. DROPPING the ball used to make the deflection will result in the defender being out.
8D. A ball is considered dead if it hits any structure including the ground.

8E. NO "PINCH-GRIP"/"GORILLA GRIP" ALLOWED.